A 20 hectare area comprising two main pools, separated by the Bray Cut stream, surrounded by maturing scrub and bushes, which provides something of interest at any time of year.
The largest lake is used extensively for water sports, and angling points proliferate around much of its shoreline. It is occupied by varying numbers of waterfowl, the highest numbers in winter. To the north, and accessed by means of a footbridge, is a quieter lake, where rafts of ducks and geese can be found, and the surrounding dense shrubs hold many passerine species.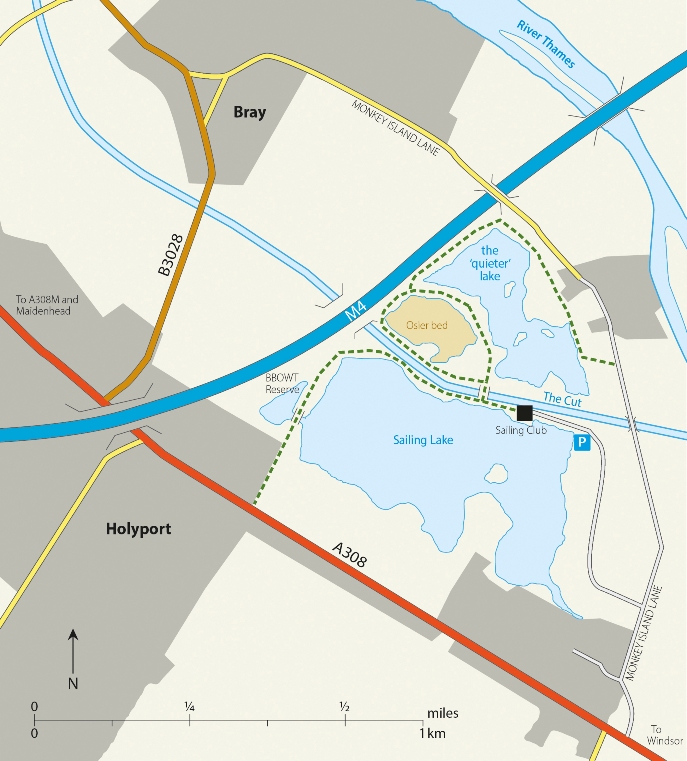 Access: North of the A308 Maidenhead to Windsor road, via Monkey Island Lane and forking left after 150 m into the sailing club entrance, the free car park being on the left after another 200m (SU 913 787). Continuing along this track on foot accesses the main lake on the left, the footbridge over the stream further along on the right, and the Wildlife Trust site at the very end.
Facilities: Sailing club shop and beverage counter, with toilet.