The flooded old gravel workings around Wraysbury comprise 12 main waters between Horton Pits to the north of the railway line and Hyde End by junction 13 of the M25. The site is adjacent to Queen Mother Reservoir and there is some movement of birds between the two.
Between the lakes there are mature hedgerows, tree-lines and an important area of scrub. The Colne Brook River, which runs through the complex, is often used by Kingfishers. There is some fishing and sailing but there are usually sufficient undisturbed areas to ensure good birdwatching at any time of year. In winter this is a good site for Goldeneye and Smew, though disturbance may be responsible for reduced numbers of visiting Goosander in recent winters. The various pools have attracted Slavonian, Red-necked and Black-necked Grebes, all three diver species, Long-tailed Duck and Red-breasted Merganser. The few areas suited to waders are around the Horton lakes, where Green and Common Sandpipers, Redshank, Ringed and Little Ringed Plovers and Snipe are regularly seen, and Jack Snipe is recorded fairly often. There are extensive areas of reed, in which Sedge and Reed Warblers, and Reed Buntings breed. In the same section, river-side scrub and mature trees draw in several warbler species and Nightingales, and, in winter, Siskins and Lesser Redpolls.  Ring-necked Parakeets are abundant here.
Rare species that have been recorded include Long-tailed Duck, Lesser Scaup, Ortolan Bunting.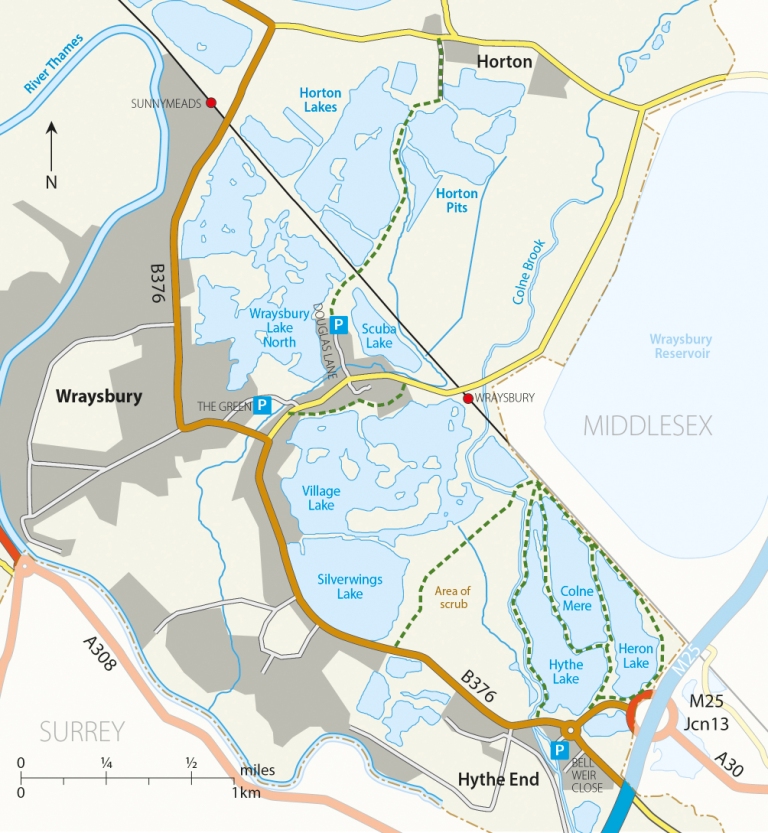 Access: Car park at The Green (TQ 003 742). Kerb-side along Douglas Lane (TQ 007 745) for Horton Pits. Bell Weir Close (TQ 019 726) for Hythe Lake etc. The Waterloo to Windsor railway line runs through the site, with convenient stations at Wraysbury and Sunnymeads.