This site is immediately adjacent to one of Britain's busiest motorway junctions, where the M4 and M25 meet. It is close to a busy commercial truck centre and under the approaches to Heathrow Airport and, perhaps because of this, it is somewhat under-watched. But lakeland birds thrive here, whilst emerging reed-beds and bank-side vegetation provide cover for waterfowl, and Hawthorn scrub supports a range of passerine species.  However, recent changes to its management have made the main lake, and the viewing screens alongside the sewage works  overlooking a created mire, inaccessible.
Thorney Country Park (Buckinghamshire) to the north-east is worth combining with a visit here. A more manicured site than the Old Slade complex, its single lake hosts Smew, Goldeneye and Goosander in winter,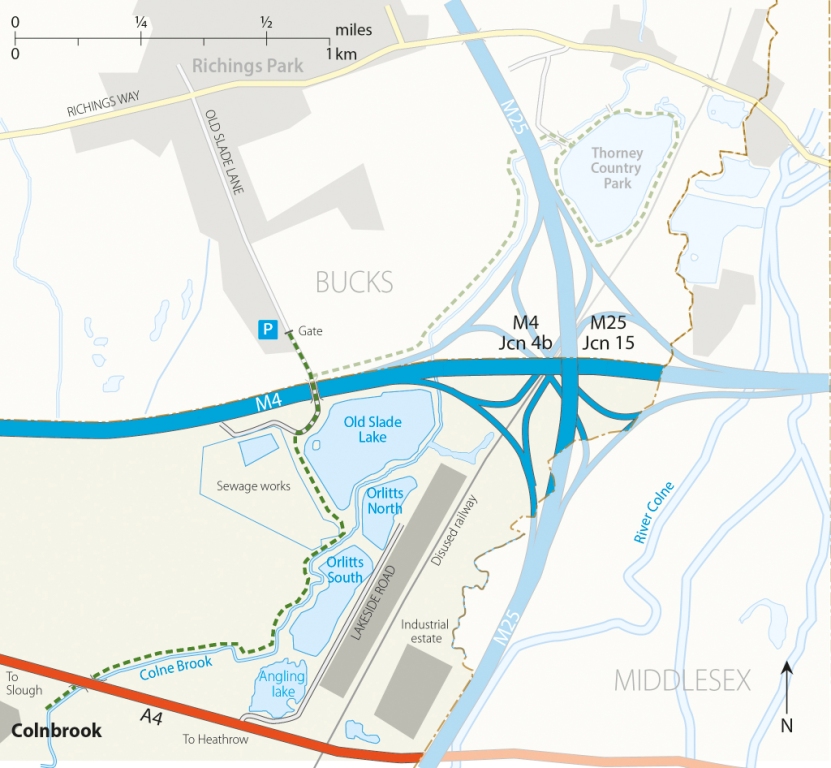 Access: No formal parking at either site. It is prudent to park outside swing gate (to avoid getting locked in) along
Old Slade Lane (TQ 037 784). The southbound footpath gives access to Old Slade and the eastbound footpath
around the field provides access to Thorney Country Park alongside the River Colne under the M25.