Dinton Pastures soon became a favourite area for  birdwatchers after conversion of the gravel extraction area into a country park in the 1980s. Subsequently, the Lavell's Lake Conservation Area was established on the northern edge of the park. Further north along the Loddon, work on an additional lake with scrape areas was started in 2005 at Lea Farm, by the Friends of Lavell's Lake charity.
Dinton Pastures' lakes hold substantial concentrations of both surface-feeding and diving ducks in winter, with occasional rarer species such as Scaup and Pintail and Smew. Bittern winter regularly in the reedbeds on White Swan Lake and Lavell's Lake and Water Rail, Snipe and Jack Snipe may  be seen on Lavell's Lake. Lesser Spotted Woodpeckers may sometimes be seen along the River Loddon.
The more open Lea Farm Gravel Pit with its new scrapes is the more attractive to waders: Common and Green Sandpipers and Redshank, are frequent with occasional Dunlin, Greenshank, Ruff, Wood Sandpiper, both Godwits, Curlew and Whimbrel.  Red Kites and Buzzards are common all year; Hobbies often present in the summer and a few Ospreys are seen each year on passage.
The list of species recorded at Dinton Pastures and Lea Farm since 1979 is 217. Combined, these sites offer good birding all year.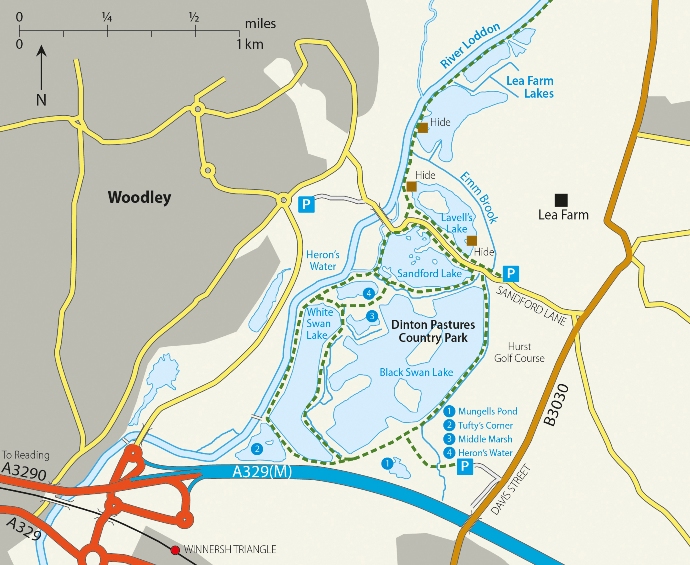 Access: The main pay-and-display car-park for Dinton is off Davis Street (SU 784 720) whilst Lavell's Lake has a separate car-park along Sandford Lane (SU 786 727) and pay-and-display tickets are available from the car park at the club house opposite. Lea Farm (SU 784 735) is approached on foot along the Loddon-side footpath from the western end of Lavell's Lake Conservation Area, and best viewed from the members-only hide.
 Facilities: Toilets, café and education centre at Dinton Pastures Country Park centre. There are public bird hides on Sandford and Lavell's Lakes and one at Lea Farm, the key to which is available to members of the Friends of Lavell's Lake.